Clock Repair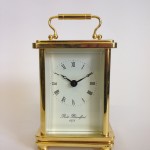 With clock repairs the usual problem is that either the oil has dried up or that the clocks mechanics have become filled with dirt and dust.

This in turn causes the wheels to stick andnot move as freely as they need to keep the clock going and telling the right time. 

Other problems could be that the bushes on the plates have become worn, mainspring could be broken or the wheels could be damaged or broken.
We repair all clocks and  guarantee them for a year.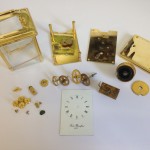 We also  repair quartz clocks usually by replacing the movements in them, these also have a year guarantee.
If you have any questions or queries don't hesitate to ask.